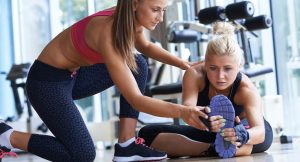 Personal trainers are not just for elite athletes, high class escorts, London fashion models or movie stars. They offer an affordable way to achieve a myriad of goals from weight loss to strength training or focusing on reaching a new level of fitness. Some people employ the services of a personal trainer as a way to recover from injury or to improve their health but, hey if you're going to employ a personal shopper you might as well go whole hog and get a personal trainer to keep you fit and slim.
We can all need a helping hand sometimes and using a personal trainer provides you with the expert knowledge required to inject your exercise routine with new vigour, achieve better results faster and the motivation and encouragement to help you stick to your goals.
So what are the main benefits of having a personal trainer?
1. Routine. A personal trainer will fix sessions with you in advance (usually at the same time every week). Having a regular routine will make you less likely to skip training and your trainer will make sure that you stay on schedule to achieve your results.
2. Variation. A lot of people who use a personal trainer do so because they have reached a plateau on their own and, despite putting in the time and effort, are not seeing any more results. This is often because their routines have become static and are no longer challenging their bodies. A personal trainer has a wealth of experience at both traditional workout methods but also the latest trends. They can inject that much needed change of regime to boost results but also to keep your mind engaged with the programme.
3. Motivation. Personal trainers have no use for the word 'can't' and will actively encourage you to achieve the best you can give. They will never ask you to do something you aren't capable of doing because failing isn't in your, or their, best interests.
4. Safety. Being shown an exercise once or watching a clip on YouTube does not mean that you are performing it correctly. Even the top athletes can lose their form from time to time and an expert pair of eyes will quickly spot whether you are doing something right or not. The benefits are simple. If you are performing an exercise correctly then you will achieve better results without the risk of injury. Do it wrong and you could be wasting your time as well as exposing yourself to risk or harm.
5. Expertise. Whether your goals from exercise are to get stronger, get slimmer or increase your endurance and stamina a personal trainer can tailor your exercise programme to make sure that you are performing the right kind of workouts. Each of these goals requires quite different approaches and should be well-suited for your individual needs. Lifting weights may not be the best type of exercise for you if you are looking to lose weight just as using the elliptical rower will not help with your strength training.
Having someone to work alongside you to achieve your goals is a powerful way to stay motivated, get the maximum benefits from your effort as well as providing an external way to monitor your form and progress.